Cowabunga IPA the widely-used, comprehensive system configuration app for TrollStore and MacDirtyCow devices with iOS or iPadOS 14.0-16.1.2 versions, was upgraded to version 10.0 with an extensive list of changes that are beneficial to customers.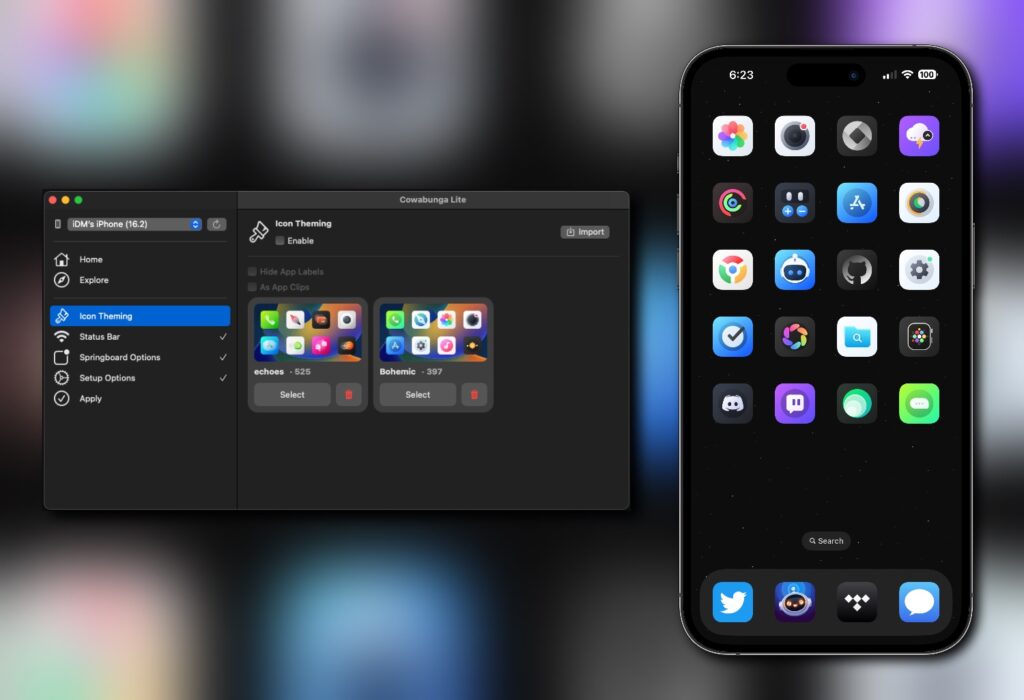 Using either TrollStore or MacDirtyCow, Cowabunga can be installed, thereby providing support for a wide range of firmware versions. Applications on iOS and iPadOS 14.0-15.4.1 (as well as some 15.5 and 15.6 betas) can be permanently signed with TrollStore. An alternate option includes sideloading onto iOS 15.6-16.2.1 with AltStore or Sideloadly where the MacDirtyCow bug can be utilized. This being said, applications sideloaded in this way cannot be perma-signed and must be re-signed every week.
How to Install Cowabunga IPA on iPhone iPad without computer?
1- Download Scarlet or Trollstore or Esign To install Cowabunga IPA
2- Go to settings > Profiles & devices management > trust on developer.
3- Download Cowabunga IPA on iPhone iPad And Send to Scarlet or Trollstore or Esign
Creating Custom Lock Animations
Creating lock animations is easy! All images must be labeled "trollformation" followed by a number (e.g. trollformation1.png, trollformation2.png, trollformation3.png…). You may use up to 120 frames though the precise size limit is likely much lower. To customize the length of each frame beyond 40, you'll need to define the animations. Fortunately, this is a straightforward process.
Cowabunga Toolbox iOS
Before the release of the WDBFontOverwrite app, which allowed users to change iOS system fonts without jailbreaking, the MacDirtyCow exploit went largely unnoticed. Following the release, the exploit began to be used in other apps, such as Cowabunga, the MacDirtyCow Toolbox for iOS 14 to 16. By taking advantage of this exploit, iOS users are now able to take advantage of Cowabunga's tweaks and enhancements without the need for a jailbreak. To get the best experience, the latest version of Cowabunga IPA should be downloaded.
Safety Check:
The game/app has been tested and does not contain any viruses!
Site IPA Library IPAOMTK checks every game and apps, goes through a long check for performance, each mod contains a lot of useful features that will simplify your package files.
Updated: 17-11-2023, 20:39 / Price: Free USD / Author:
Leave a Comment